Learn about the people who
play Cox instruments
Helen Gray-Bauer
plays on viola #73,
16", 1986
"The Singing Tree"
a short film by
Rolf Parker-Houghton
Click to view the film.
It features the fantastic fiddling
of Ruthie Dornfeld.

Learn More about Cox Violins
Violinist Rubén Rengel - 2018 Sphinx Competition Winner
Venezuelan Violinist Rubén Rengel won the top prize in the 2018 Sphinx Competition Senior Division playing on Cox Violin Opus 563, a 2005 "Nightingale" Strad model on loan from Jaime Laredo, Rengel's teacher at the Cleveland Institute.
Rubén will be a featured soloist with the Vermont Symphony Orchestra in the VSO's 2018 TD Bank Summer Festival Tour. We look forward to meeting him while he is touring Vermont.
The Sphinx prize includes the $50,000 Robert Frederick Smith Prize, solo appearances with major orchestras, performance with the Sphinx Symphony Orchestra at the Finals Concert, and a custom-made gold bow by Berg Bows International.
You can read a full bio of Rubén here. See video of Ruben performing Saint-Saëns Op. 61 Violin Concerto No. 3 in B minor here.
Boston Visits
With the sale of the New England Conservatory building I have used for the past several years, my patterns are changing. I look forward to serving clients in the Boston and New England area going forward. If you would like to see me, please call or email, and I will do my best to accommodate you as quickly and conveniently as possible.
Vionlinmaker-in-Residence
I was pleased recently to be invited by the Vermont Symphony Orchestra to be their violinmaker-in-residence for their 2016-17 season. The VSO has been looking for ways to involve their audience more deeply in the music making process. They thought looking at the story of the instruments themselves would reach their audience in new ways.
One of the signature parts of live symphony concerts is the direct physical connection between the audience's ears and the movements of the musicians, and between the brains at both ends. By making the creation of one instrument real and familiar we hope to make that connection closer and more exciting for the audience.
The audience, musicians, and the wider community will follow the process of building a violin, culminating with the finished product at the May 6 concert. I will be in residence at concerts, working on the VSO violin, with exhibits to explain the making process. I will also produce a blog to document and explain the process in more detail and add history, theory, and my personal observations. I invite you to follow this project via the blog.
James Buswell plays Bach Cello Suite in C minor
Here is a link to a wonderful performance of the Bach Cello Suite in C minor, by James Buswell at New England Conservatory's Jordan Hall in October of 2012.
Mr. Buswell is playing on Cox Violin #134, a 15-3/4" original model.
A violinist, Mr. Buswell taught at New England Conservatory from 1987 through 2014. Buswell has performed as a solo violinist with virtually all of the major orchestras in North America, and throughout Europe, Asia, South America, and Australia as well. In this capacity, he has appeared in over one hundred solo works for violin and orchestra.
As a violist, he recently recorded the Taneyev String Quintet, which will soon be released on the Naxos label.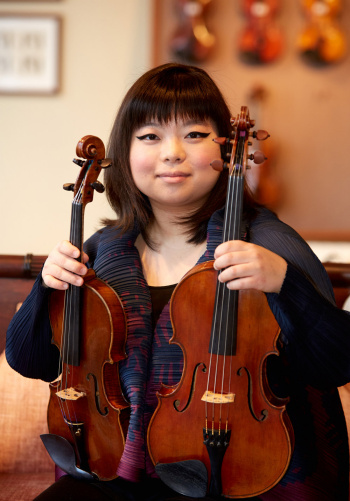 A conversation with violinist/violist Yura Lee about her relationship with her instruments
Korean-born violinist/violist Yura Lee was interviewed by Ariane Todes for this article on the Cozio Cargteggio site. In it she talks about her relationship with her Gagliano violin and her Cox viola.
Photo © Robert Bailey, Tarisio.
Guadfest! — Giovanni Battista Guadagnini through the Eyes of a Modern Maker
An exhibit of violins and violas by Douglas Cox at Stamell Strings, June 3-28

Modern makers have always looked to their predecessors for inspiration and solutions for technical problems. G.B. Guadagnini is not the first of these to be looked to by contemporary makers as he is usually considered a second tier maker, and his work has a great deal of variation and inconsistency.
The exhibit was an exploration of the development of Guadagnini as interpreted through the lens of my experience as a contemporary maker. Three of the violin reproductions, each from distinct periods and making, come from my direct experience with instruments that have been available to me for study. Three more are variants on these same patterns based on photographs and information contained in the recent book edited by Andrea Zanré. The violas are based on information from this reference book.
While it is not clear that Guad had experience working with any top tier makers, his claim on his labels notwithstanding, he clearly had his own genius and was soaking up information from some of the best sources available to his generation. This makes the evolution of his work valuable for its insights, and of interest to modern makers because of the similarity of the environment he was working in and our own.
I have had an interest and attraction to his work since my first large-scale restoration project on a 1760 example, the "Kripps," and a series of early copies based on this first-hand information. The recent publication of the large-scale book cataloging the 2011 Parma exhibition inspired me to revisit what Guadagnini has to inspire and teach, with the benefit of insight from my 40 years of violin making experience.
The exhibit was an exploration of how makers evolve and influence each other, even over the distance of several centuries. Many thanks to Matt Stamell and the staff at Stamell Strings for hosting the instruments in June 2014.
The "Ivory Ban" and what it means for traveling musicians

There has been a lot of chatter about the "Ivory Ban" and a growing awareness of the vulnerability of musicians traveling with instruments that contain protected plant and animal materials. We've been asked for guidance recently and while definitive answers have eluded us, we continue to study the issue. The ultimate goal, to protect endangered species, is a worthy one.
"It is unlawful to import, export, transport, sell, receive, acquire, or purchase in interstate or foreign commerce any plant, with some limited exceptions, taken or traded in violation of the laws of the US, a State, Indian Tribe, or any foreign law that protects plants or animals." - paraphrasing a US Fish and Wildlife Service Factsheet for Musicians & Manufacturers of Musical Instruments.
In two separate incidents in May of 2014, string instrument bows were seized by US Customs officials under the Endangered Species Act (ESA) of 1973 and the 1975 Convention on International Trade in Endangered Species of Wild Fauna and Flora (CITES - pronounced "SIGH-tees").
While these protections for wildlife have been in place for many years, a 2008 amendment to the Lacey Act, a 1900 conservation law originally focused on helping States safeguard game species and keeping harmful exotic wildlife out of this country, has broadened the number of species covered by these laws and conventions and has resulted in a heightening of attention at US ports of entry. Customs officials are now taking an interest in musical instruments with particular focus on these species that might be found in your instruments, including but not limited to:
Elephant Ivory (bow tips, facings, frogs; instrument nuts)
Brazilian Rosewood (bows, pegs, chinrests; guitars)
Tortoiseshell, Monitor Lizard, Whalebone
If you travel abroad with an instrument that includes any of these materials, and you are without proper documentation, your instruments may be seized either on returning to the US or at the port of entry of another country which is a signatory to the CITES agreement. Most recent attention has been on the "Ivory Ban", as that is the material most likely found in your bow or your fiddle. It's not too big a stretch to imagine that the inspectors at the border are going to be suspicious of any material that looks like ivory, whether it is or it isn't.
We think it is advisable to be informed and prepared – not an easy thing, when we keep hearing contradictory information from the government agencies whose province this is. We hear that the Fish and Wildlife Service is developing a 'passport' that you can obtain to travel with your instruments. We hear that the border controls will ease restrictions on musicians, but then we hear that 7 bows were seized at JFK.
What can we do?
It is still unclear what the best strategy is, but here are a few things you can do to try to avoid problems:

Buyer Beware! Make sure you know and can document the materials used in any instrument or bow purchased after February 25, 2014.
Apply for the CITES certificate from the Fish and Wildlife Service.
Educate yourself about the latest events & requirements (see links below).
If you suspect your bow has ivory fittings, have them removed and replaced with a substance that does not resemble ivory – silver, for example, OR
Plan to travel with a bow that you know and can prove contains none of the restricted plant or animal materials.
Here are some links with information & opinions that may be helpful:
This content is for general educational purposes only and is not intended to provide legal advice on any subject matter. This website should not be used as a substitute for obtaining legal advice from an attorney licensed or authorized to practice in your jurisdiction.
Cox Violin Spied on SF Street
We recently received this email message from a client in San Francisco:
Hi Doug & Laurie,
I came across this fabulous player today outside my office in downtown San Francisco. Her sound filled up the whole block and I recognized instantly that she was playing one of your instruments (she was a pretty surprised when I asked her if it was a Cox violin). I didn't get her name but she's playing a 7xx fiddle and used to play an older Cox. Her playing was very fine and the instrument was powerful and well-balanced."
Learn about this mystery player on her Spotlight page and read what she has to say about her violin.
The Art and Craft of the Violin Catalog
A beautiful catalog of this summer's exhibit at the David Walter Gallery in Brattleboro is available for purchase. It includes photographs and stories of all the instruments in the show, Doug's making philosophy and methods, a forward by David Walter and more.
"Working on this catalog has been an opportunity for me to review the most important factors in my career and development as a maker and to illustrate them with stories and images. Working with the staff at Master Craft Gallery has produced a book of beauty, interest and meaning," writes Doug.
The catalog price is $25 plus $5 (USA only) shipping. Sales tax on Vermont sales. Contact us via for overseas sales.
To order by mail, make checks in US dollars payable to Douglas Cox and mail to 1138 Sunset Lake Road, Brattleboro, VT 05301
Showings
Visitors are always welcome at the studio in West Brattleboro. Call before making the drive to be sure that Doug will be there.
We Walk the Walk
We believe that the arts in general and music and string playing in particular can make this a better world, and that access should be as free of impediments as possible. Exemplary efforts, especially by youth should be encouraged, and Cox Violins is proud to support the following organizations and activities:
The arts in our community
Opportunities for youth and outreach
Music